Keeping My Toddlers Occupied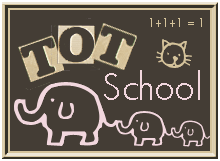 Well I think that we are slowly starting to get back into the school groove again. After the holidays I feel like we have a lot of ground to catch up. We've started to do some Toddler School activities during the day with both the 3yr. old and the 1yr. old. They love having their own activities to do with either me or one of their older siblings.
This week I thought I'd be a good mom and let the little ones make a mess. Oh wait, they do that every day! :) I purchased some
finger painting paper
but forgot the paint. I decided to use pudding instead and when I looked in my pantry I found that the only instant pudding I had on hand was pistachio. So that's what we used!
This was DD#4's first time finger painting. She was also the first one to figure out that the finger paint tasted good :)

Yummy! This was fun!

DD#3 had a blast. Every day this week she asked to paint. Oh and as a side-note---pistachio pudding does not make good finger paint--those nut pieces kind of look gross on the paintings :)

I pulled out an older activity for DD#3 to do this week. It involved transferring cotton balls from one bowl to another using the salad tongs. When I see this picture I can hear the screaming. See that hand with the purple shirt? I failed to realize that I should have had two of these set up. DD#4 was not happy to wait for her turn and she let everyone know. :)

With DD#3 I pulled out the
Unifix cubes
and
pattern cards
. She enjoyed matching the colors on the cubes, but when it came to extending the pattern--she didn't care. I don't think she's quite ready for doing patterns this way at the moment. We did have fun making towers and using the blocks as pretend doll food though. :)
We also had a nice snow blanket the area this week. DD#3 had a blast trying to catch snowflakes in her mouth. She also was a good helper and shoveled snow with me.

For Christmas the girls got a
Read 'N' See DVD Bible
. We've been trying to do a story a day. We have been enjoying sitting together to read the book and then watching the DVD.
Here's a listing of
Toddler Activities
that I've compiled. I find it helpful in planning activities for my two toddlers.
Labels: toddler time