Tot School: Sept. 20-24
We start off every day singing our calendar song. Here she is singing "There are seven days, there are seven days, there are seven days in a week.."
Big sis was learning about the letter T this week, so DD tagged along. Here I modified an activity so that she could do it. I let her use
Do-a-Dot
marker to decorate her tooth. Notice she did not use a light hand this time. Splatter was everywhere! Oh the joys of letting your child be creative.
Do-A-Dot!
Yes, I even let her do this activity a second time, and a third.... She asks to do this every day.
Playdough.
To see more Tot School Ideas visit: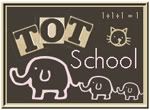 Labels: toddler time