Tot School: Sept. 13-17
Many times my 2yr. old gets to tag along with whatever I have planned for the 3 1/2yr. old. It just saves me some time.
bee pages
together.
Dot Markers
. She also loved placing yellow dots all up and down her arms. :)
mini-erasers
. All were letter b items--butterfly, bug, and ball.
Total concentration! Love it!
1+1+1=1
, the 2yr. old joined in the fun with the rest of them.
For more Tot School ideas check out: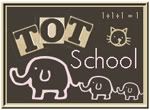 Labels: toddler time