Tot School 8/30 - 9/3 (24mo)
We are still slowly starting to get a little more formal with Tot School. I've been winging it lately since I haven't had time to plan yet (ok, who am I kidding---I usually wing it!) I've been pulling ideas from my
Toddler Activities
online list to help jog my memory for ideas.
DD is now 2yrs. old! She joined in on
calendar time
with 3 1/2 yr. old sister. She likes to stick the numbers on the velcro and knock all of the numbers out of the pocket chart :) I'm not expecting her to learn the days of the week or the months, but she likes to sing and help us with the numbers. So whatever soaks in, soaks in :)
Once again she did lots of drawings. I pulled out the chalkboard for her this week. She had more fun erasing everything. That fascinated her.
She has been having so much fun playing and pretending with her sisters. Her oldest sister dressed her up and they were playing Bible characters. She was pretending to be Mary. She also has been doing lots of pretend playing with her 3 1/2 yr. old sister. They take care of their baby dolls, go grocery shopping and play doctor. I love to watch them use their imaginations!
Books We Read This Week:
Special Times Bible Rhymes for Toddlers
The Very Busy Spider
by Eric Carle
Bingo
by Rosemary Wells
The Itsy Bitsy Spider
by Rosemary Wells
For more Tot School Ideas be sure to check out the Blog Hop at: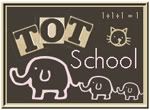 Labels: toddler time