Learn About China Kit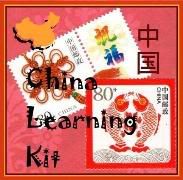 While planning our
Expedition Earth geography unit
, I remembered that Jimmie (from
Jimmie's Collage
) has a friend who makes
China Learning Kits
. I've went ahead and ordered mine (I can't wait for it to get here) and wanted to let you all know of this opportunity, since it will take a little time for it to arrive since it's coming from China.
In the kit you will receive:
Chinese papercut
Chinese knot
Red packet with currency
Chinese flag
Postcards
Bookmark
Red

scarf

worn by young Communist students
An informational

brochure

about the things in your packet
Honeycomb lantern
Stickers
I think having some hands-on items from different countries and cultures always adds a wonderful dimension to learning. Each kit costs $14.00 USD. You can find out more information about the kit and directions on how to order by clicking on this article:
Learn About China Kit.
Don't forget about the
Expedition Earth giveaway!
If we reach 100 entries, I'll be adding another to giveaway! We're getting close....
Labels: geography