Tot School 8/16-8/21
We are slowly starting to get back into the groove of things after taking a long break of doing formal activities. My youngest DD turned 2 recently and as a gift she got a tot-sized table and chairs from IKEA. This has motivated both girls to want to do activities at their very own "work table" as they call it. :) They have been doing lots of drawing. In fact, my 3yr. old called her dad while at work one day and asked him for a mailbox because she wanted to mail him letters (we had been letting her put her drawings in our real mailbox but we were all getting tired of the every-other-minute wanting to go out there.) To all of our surprise, dad came home with a real mailbox for her! Both my 3yr. old and 2yr. old have loved having their very own mailbox. I'll have to get pictures of it up soon.
Other things we did this week w/ 3yr. old dd:
See Altered Letter Post
)
Melissa & Doug bead craft
my 8yr. old had received. I thought the box would come in handy for Tot School.
23mo. DD also joined in:
- Played with
Playdough
- Rode her little car and
Strider pre-bike
- Sang songs
- Colored ( a little too enthusiastically. I now need to go purchase some more Magic Erasers--lol)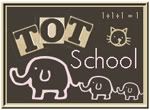 Labels: toddler time