Color Matching Game
I love it when things come together and it doesn't take a lot of prep work on my account. :) I pulled out a color sorting activity from a
Wildlife Kit
I purchased from
Time for Tots
(I'll have a separate post on the kit later in the month) and combined it with our
Education Cube.
Here's the game we came up with:
1.
Roll the dice (I had placed only the color names that were listed on the sorting mat into the cube. These printable inserts are available to
Education Cube members
).
2.
Whatever color lands on top is the color straw the player must pick from the colored straw pile. Using tongs, the player grasps the straw and places it in the correct space on the mat.
Extension:
For students who know their colors but need to practice reading/identifying color words, use the black and white color word inserts. These are available at Education Cubes.
Optional Play:
You can play this game with two players. You will need to have two sorting mats. Play the game as explained above. The first person to get their board covered wins.
My 4-yr. old daughter enjoyed playing this sorting game. It added in a couple of different elements (the tongs and the dice) that kept her interest. She did change the rule to whatever side of the dice was facing her was the color she picked. That works too. :)
For more preschool ideas check out: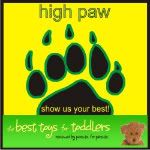 Labels: learning colors, toddler time