Letter of the Week Preschool Curriculum: Giveaway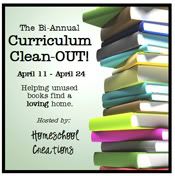 Well it's time for the
Big Curriculum Clean-Out!
I had so much fun participating last year that I wanted to join in the fun again. Since I haven't had time to go through all our stuff, I decided to do a giveaway of a curriculum that my 3 1/2 yr. old daughter has enjoyed doing:
The Letter of the Week Curriculum from Confessions of a Homeschooler. You can check out my past blog post on this curriculum:
Letter of the Week
WHAT YOU WILL RECEIVE:

* A- Z Weekly Lesson Plans
* A-Z Printable Activities
* A-Z Recommended Reading List
* A-Z Letter Collage Worksheets
* Shape & Color Flashcards
* Daily Weather Chart & Weather Graph
* Convenience of downloading everything all at once!

As an added BONUS, you will also receive Weekly LESSON PLANS!
You can check out some samples and more at:
Confessions of a Homeschooler: Letter of the Week.
Giveaway Rules: *NOW CLOSED*
I will be giving away 1 Letter of the Week Preschool Curriculum via download. Nothing will be mailed to you. Since I don't have to mail anything, this giveaway is open to U.S. & beyond! :) The retail value of this giveaway is $10.00.
1. Subscribe to my blog (or follow via Google Friends Connect/Networked Blogs) and let me know by leaving a comment here for one entry.
2. (optional) Twitter or blog about this giveaway and let me know by leaving a link in the comment section below for an additional entry.
3. (optional) Follow me on Twitter.
Total of 3 possible entries per person. You must leave a separate comment for each entry.
This giveaway is open from April 11 -.17. A winner will be chosen at random and the winner will be posted on Sunday, April 18.
Please make sure there is some way I can contact you :) If the winner does not respond after 3 days, then I'll draw another winner.
--------------------------
Check out my Eco-Fingerpaint Giveaway too: Deadline 4/13
Labels: giveaways