Tot School
This week I made an I Spy bottle with an ocean theme, since we've been reading ocean books in our little co-op. DD enjoyed this immensely. For this bottle I colored rice blue and found some mini-ocean life erasers plus some real sea shells to place in it.
I went ahead and worked on several with a Christmas theme too. I wrote
how to create an I Spy bottle
and other I Spy ideas as a lens. I hope you check it out! If you make a bottle and post on your blog, send me an email and I'd love to link it to the article.
This week we also took a wonderful fall nature walk. All my older kids had backpacks with clipboards. When we were packing our lunch and supplies, DD#3 asked where her backpack was. Thankfully I had this cheap fish backpack I got at the Dollar Tree. It was good enough for her. She even did a little "nature drawing" too. We all enjoyed being outdoors and seeing all the signs of fall.
I got this Discovery Toys puzzle at a garage sale this past summer. It is in perfect condition. I pulled them out this week. We talked about colors, names of the objects and then I let her trace them (though she didn't enjoy that at all). All week long she kept asking for these puzzles (there are 3- animals, transportation and dinosaurs). They were a hit for her!
One other activity that we did that I wish I would have taken a picture of was pull out the game Twister. My oldest daughter would spin the spinner and tell my DD#3 to "hop to a blue circle" or "crawl to a yellow circle". Little DD loved this. It was a great way to work on the primary colors.
For more Toddler Activities be sure to check out: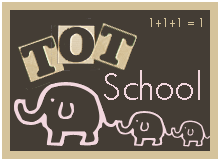 Labels: toddler time