Tot School Aug. 17-22
We are getting back into the swing of things with Tot school in the Spell household. I now have two tots enrolled! I still have to organize all the workbox and toddler activities that we have, so this week we kind of just pulled things out of the cabinet without much planning :)


DD#3 did some free-play with her
farm magnet set
. She also matched the pictures with the words (using the small picture on the word card---you know she's not reading yet :) ) and told me what each animal says.
Then she joined the older kids in illustrating
Psalm 148
. She glued flowers and colored. She really enjoyed gluing---almost too much! I had to take the bottle away and tell her she was done :)
Now I kind of forgot to plan something for DD#4. I quickly glanced around the room to see what I could find that would amuse her. I found my stash of plastic lids and a plastic cup. Viola! Cheap and easy activity.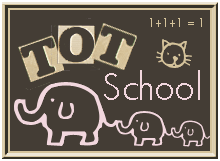 Labels: toddler time