Tot School: Dec. 13-17
We've kept things simple this week for Tot school. We pulled out several of our Christmas school fun items. She loved to play with the magnet nativity from Musings of Me.


We've had snow this week! She loved being out in the snow. The advantage of having older kids is that I can stay warm inside while they pull her in the sled and make snow angels together. :)
Both girls asked to play with the ABC sensory box this week. They would scoop and transfer the filler. After the second day I got smart and placed the box on a big tray so that I could easily pour the filler back into the shoe box.
And she did a little toddler body art with a Sharpie marker. She's been into everything lately.

We also read lots of Christmas books, sang songs, and made some ornaments.
For more Tot School Ideas check out: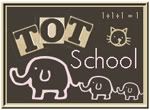 Stay Connected:




Labels: toddler time