P is for Pumpkin
This week my preschooler and little tot worked on letter P activities. I will admit that I picked letter P because I already knew what we were covering in our co-op toddler/preschool class. :)
At the beginning of the week we did our
letter P cut and paste page
,
do-a-dot page
, and
picture cards.
Then I really didn't have the energy to do much more than that this week, but I had already planned a bunch of pumpkin activities for our co-op which another mom taught for me. Here's what we did:
Life Cycle of a Pumpkin
cards from
Montessori for Everyone
. The kids loved matching up the pictures.
Christian pumpkin pocket poem
from
The Scripture Lady.
Each pumpkin has a different face and a little poem that goes with it--for example: "The first little pumpkin on the outside looks sad, but he knows that when Jesus lives inside, he's oh so glad."
Christian Preschool Printables.
Then we played a Pumpkin shape game and did a couple other
Letter P activities from Confessions of a Homeschooler.
Here are some of the books we read this week:
For More Preschool and Toddler Ideas check out: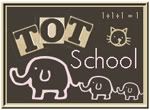 Labels: Letter P, preschool corner, toddler time