Tot Schoool (34mo)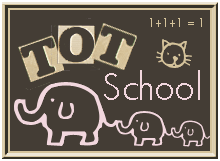 It has been awhile since I've posted anything that we've done with dd#3. Now that we are kind of getting back in the school grove, I'm planning a few more intentional activities with her. I created a list of activities to choose from in order to cut down my planning time. This has helped me tremendously.

At the end of last week we went to the zoo. It was dd#3's first time going, so I was pretty excited to see her reactions to the animals. The zoo we went to was a small but very cute zoo. It was just the right size for a first zoo visit. The first animal she saw was a monkey and for some reason she was terrified. It took a little coaxing and assuring her that they couldn't get her before she agreed to be put down. After that she started enjoying the animals. We saw wallabies, chickens, goats, a llama, an eagle and probably some others but I can't remember at the moment. The zoo is under construction with a few more exhibits planned, but I loved that it was something you could do in an hour or two. I enjoyed walking through the butterfly garden the most. The kids enjoyed playing in the water fountains the best. Here are some highlights from our zoo trip and our tot school week:


The zoo had tunnels that you could crawl through and "holes" that you peek out of and act like prairie dogs. At first dd#3 would not go in the tunnels. She stood outside for the longest time, watching her other siblings dart in and out. Finally she gathered all her courage and slowly walked in. I couldn't believe she actually traveled through the tunnels. This was her expression as she came out of the tunnel. I love it. :)


We practiced our observation skills this week. We had a variety of objects that she looked at with the magnifying glass. Then we used words to describe the objects.


This week we started our co-op class. We are going to be studying oceans (the older kids are going through Swimming Creatures of the 5th Day
and I'm modifying the content to teach preschoolers). I found this puzzle at a garage sale recently. We pulled it out for some puzzle practice this week.


We are still working on colors. This week I tied our color practice to the Wordless Book. I made these nesting cans to teach the Wordless Book story. These work particularly well with the Wordless Book song which you can find in the link above.


One fine-motor skill she did this week was putting coffee stirrers into an empty Parmesan cheese container. This was a big hit. In fact, I had to keep telling the 7yr. old to let the 2yr. old have a turn.

So these were a few of the things we did this week. For even more Tot School ideas, check out the links at:Tot School.
Labels: toddler time, Wordless Book