This and That
I cannot believe that May is here already! I feel behind. I had so many things on my mental to-do list that I didn't finish. I'm going to try to finish the month of May strong! :)
Big thanks to April's blog sponsors:



My kids love Speekee Spanish. And with Tiny Prints I was able to send out Christmas cards this year. Tales 2 Go has been fun to listen on my husband's iPad.  My 8yr. old especially enjoyed Time 4 Learning online education. All four sites have wonderful things to offer---go check them out.
Guest Posting:
I've got a guest post up at Itty Bitty Learners:
ABC Spray 'N' Spell
Upcoming: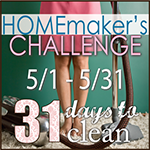 I decided that since I was able to get this
e-book
, I should go ahead and do the challenge! This will be a big stretch for me at this time because I've been a little overwhelmed with things on the home front. So, I'm hoping that joining in will keep me accountable.
I several reviews coming up:
Road Trip USA by Confessions of a Homeschooler
Earn It, Learn It
IEW
Monki See
And I'll have a couple giveaways too!
You Might Be Interested:
Several of my blogging friends have some cool things going on this month that you might want to check out:
Do you need ideas and inspiration for teaching your daughters homemaking skills? In May, Angela will be sharing 30 posts just for you! I'm excited to share that this 30 Day Series is Sponsored by the Simple Meal Planning Website – Plan to Eat!   Series by Homegrown Mom
Tonya, From Live the Adventure, has a post with some travel resources for families. I found some helpful information and links there.
Labels: blog stats