Chalktalk with JDaniel4's Mom
One of the biggest struggles I have during the summer is coming up with lunches and snacks. My kids are constantly hungry! I'm always on the look-out for healthy snacks that are budget friendly. I've seen a lot of posts regarding Muffin Tin Monday and noticed that my friend JDaniel4's Mom participates in this regularly. I decided to talk to her to find out what it was all about and to see how she handleslunches with her crew.
1.What is Muffin Tin Monday?
Muffin Tin Monday is a weekly blog carnival hosted by Muffin Tin Mom. Moms from around the world gather to post pictures on lunches they have created for their children in muffin tins. Some weeks there is a theme posted that most of the moms follow and other week's moms are asked to come up with their own themes. There is a list of theme or no theme weeks listed on her site. It is so helpful if you like to plan your muffin tin in advance.
2. Do you only do this special meal on Mondays as a treat?
We do a special themed lunch once a week. I do meals in muffin tins a lot. At lunch time and sometimes dinner time I ask my son if he wants to eat on a plate or a tin. I have five or six tins in a cabinet that is at his level. He is able to reach in and select his choice of tin.

3. How do you plan what will go in your Muffin Tin meals?
If there is a theme I go by the theme the Muffin Tin Mom has listed. If there isn't a theme, I create a tin based on my blog theme of the week. Monday through Friday all my blog posts revolve around a weekly theme.
I try to use foods we already have at home in my tins although I have been known to use Muffin Tin Monday as an opportunity to try new foods out on my son.
Some tins are planned during the week and others come together as stand in front of my refrigerator and see what we have.
It is so helpful to look at what other Muffin Tin Moms have done and try to replicate them with my own twist. Muffin Tin Mom has a gallery set up on Flickr.
4. What types of snack foods do you usually serve in the summer?
We are trying to eat a lot of fresh fruits and vegetables this summer. My son loves fruit chews. I am hoping to wean off them to real fruit.

5. Do you have a set snack-time?
JDaniel gets a snack after naptime in the afternoon. We don't have a set snack time in the morning. If we are going to eat lunch early, he doesn't usually need a morning snack.

6. Where do you find your cute shaped muffin tins?
I have found them all over. Target has had some their dollar section. I have purchased some from A.C. Moore and Michael's with 40% off coupons. I have a bunny egg plate that I found on clearance at a grocery store for 75 cents. Some Muffin Tin Mom's have talked about great tins they found at Goodwill. Holiday related tins seem to go on sale right before the holiday. Hobby Lobby has great cupcake liners that you can pick up very cheaply there.

7. What is your favorite Muffin Tin meal so far?


I loved creating the tins during the color series. It was fun to come up with all red, purple, blue, green, and orange foods.
JDaniel loves the tins that I have used cookie cutters to make letters or shapes with. He loved his Dad lunch.
8. Do you have any tips for preparing and/or cutting down the cost of snacks and lunches?
We coupons and stock pile based on store specials at my house. I use Southern Savers and other deal sites to plan my shopping.
9. What is your favorite recipe?
I made a quinoa salad recently that my family really enjoyed.
2 cups of water

2 tablespoons of honey (My friend Kathleen says honey is supposed to help with JDaniel's allergies.)
1/2 teaspoons of coarse salt
3 tablespoons of olive oil
1 cup of cut up pieces of apple (It calls for Granny Smith and we had Gala.)
1 cup of finely cut celery
1/3 cup of raisins (It called for golden raisins and we had regular brown ones.)
1/3 cup of finely chopped parsley (We didn't have parsley.)
1/2 cup of chopped almonds, toasted ( I took a handful of almonds from a can of mixed nuts.)
Bring the quinoa and water to a boil.
Reduce heat and let simmer for 15 minutes. The quinoa will be tender and the water absorbed.
Mix the honey, lemon juice, and salt. Slowly add oil until blended.
Add remaining ingredients to the quinoa and toss well.
Add the dressing and toss.
Season with salt and pepper.
This recipe will feed 6 to 8 people. Both JDaniel3 and JDaniel4 has seconds of this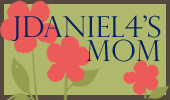 JDaniel4's Mom is a former teacher and educational technology trainer who now blogs at
JDaniel4'smom
You can find reflections, reviews, resources for moms, giveaways and more on her blog.
Labels: Big Summer Fun, chalk talk, recipes