Getting Ready for Easter
Besides teaching my own kids, I have the awesome privilege of teaching pre-k kids at church too! I've been busy planning Easter things for them and my own kids and thought I'd share some of what we will be doing.
Easter at Home:
During Christmas we read the book
Humphrey's First Christmas
. We fell in love with Humphrey after reading that book and I knew I needed to get Carol Heyer's new book,
Humphrey's First Palm Sunday
. In true Humphrey style, Humphrey wants something and he knows how to get it. He knows he's a true camel leader but just needs to convince his master. While traveling in Jerusalem, he spots a familiar blanket-- the one he gave to a tiny baby years ago. Could this man be the same tiny baby he saw years ago?
The illustrations in this book are excellent. Carol Heyer brings Humphrey's personality to life through the pictures in the book. I love the having another resource to share with my children about Palm Sunday.
We also have
Benjamin's Box
to read along with our set of
Resurrection Eggs
. Though this looks like a preschool book, I am not using it with my little ones. Rather, it will be a read-aloud w/ my older kids.
We are currently reading
Amon's Adventure
. We are only 5 chapters into the book, but are loving it. It is broken up into chapters that have a little devotional at the end and is meant to be read during the Lenten season.
Songs:
I've also added some pre-k Easter songs on my iPad and playlist for church. Here's what I have lined up:
Theme Verse:
Songs for Saplings 1 Cor. 15:3-4

"Christ died for our sins according to the Scriptures. He was buried and he rose again the third day according to the scriptures."


You can find
printables for 1Cor. 15:3-4
over at Totally Tots.
Now I couldn't find MP3 files to share and it seems like Miss Patty Cake's DVD's are hard to find, but if you can find them, she has some wonderful songs for toddlers and preschoolers. We will be using:
1. Shout Hosanna
2. Give me Five He's Alive
3. Hop to Praise You
4. Colors Numbers ABC's
All these songs focus on the Easter story. You can see a video preview over on her site:
Miss Pattycake's Egg-Strava-Ganza.
Here are some additional songs:
He Saved Us from Rock the Word: Scripture Rock
Eternal Life from Seeds Family Worship
Church:

Now each of the kids in the preschool department at church will take home their very own set of special Easter story eggs. I totally got this idea from Motherhood on a Dime:
Preschool Resurrection Eggs.
Click over to her site to see what is inside each egg. I cut our cartons in half so that I didn't have to collect as many, but you can put them in a full carton and they'd spell EASTER instead of EAS/TER like mine :)
The younger elementary kids will also have their own set of eggs using
Resurrection Egg printables
from Bible Story Printables.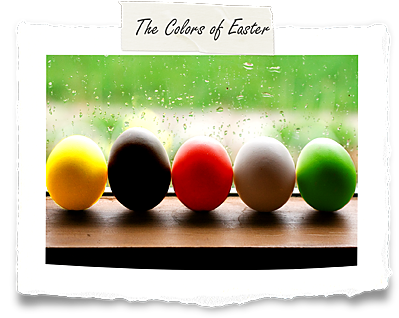 Other Easter Resources:
Resurrection Egg Printable from 1+1+1=1
12 Days of Easter from 2 Teaching Mommies
The Wordless Book Printables from Spell Outloud
All Play on Sunday
has the cutest printable Easter book perfect for Preschool.